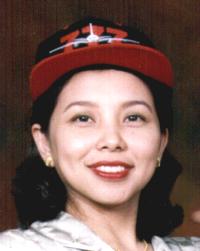 Zuraidah Hassan
Now Ju, or Zu, as she is affectionately called, is the darling of the Wackos. She has model looks, model features, and a model figure to match. If she were a model, she would remind me of Mariah Carey. But since she's not... Nevertheless, she's never failed to make heads turn.

Ju is really a nice girl. Unlike the pretty but dumb blonde, she's well educated and is almost always found working hard in meetings during office-hours. She often skips the mandatory Wacko brekkie or brunch, yet manages to steal in a few hours to watch a movie when everyone else is working hard. Ju has about as much navigational finesse as I, and once, I remembered, on a holiday trip to Langkawi with a few of the Wackos, the gang cleverly placed me in the driver seat and Ju as the front passenger, in charge of directions. Needless to say, we ventured to uncharted territories that left the rear vacationers tougue-tied in hilarity.

By far, her most revealing side of bizarreness, is her uncanny wit and sense of humour. She is particularly inclined to fuse sexual innuendo in almost any remarks she makes. She can render the use of kitchen utensils into something pretty hot. Or should I say kinky. More likely naughty. She loves men. She loves Jean-Claude Van Damme.

-----Original Message-----

From: Zuraidah Hassan @ isd
Sent: Friday, September 19, 1997 4:47 PM
Subject: RE: The Birthday Orgy

Not unless if you do up Riz or inject him with a serum to look like and have a body like Jean Claude Van Damme (I can even spell his name).

Still, deep-down, you know you'll always love Ju, because she has that smile that can brighten up even the dullest days, she has that sweetness that makes honey pale in comparison, she has such smooth and fine complexion that leaves you breathless. Deep down, it's elevating.

She is a graduate of the USA. She is a Systems Analyst.