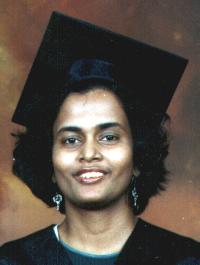 Sharmala Sharvanandan
We call her Sharm, but she is Mala by her family and other friends. Sharm is possibly the friendliest of the lot, as she has this incredible ability to get along with just about anybody on first meet. Don't you just get pissed off with such talent? I mean, how does she do it?!? She loves meeting people, and making friends. She loves, and I might add, truly devoted to, organising events. Be it parties, dinners, management retreats, holidays, or just your breakfast outing. Sharm will sort things out for you.

As is the standard criteria for being a Wacko, she is a party activist. She, like every other Wacko, except for Rizal, loves dancing. She loves playing Pictionary, too, and has a flair for creating quizzes in games. She is integral as the glue between BULL and SHIT (read that as alibi). But one thing she won't touch with a ten-foot pole, is karaoke.

As you can see in the picture, she is the first Wacko to officially graduate from the Wacko Institution. (She had to leave for Sweden to pursue further avenues in life, so being the Wackos that we are, we can't just have a simple, plain send-off; we have to do it in pompous style! Hence, the graduation photo-shoot, the elaborate ceremonies at the gardens of a hilltop condo, and a gala time at the airport).

She is a graduate of Kings, London, UK. She is a Systems Analyst.